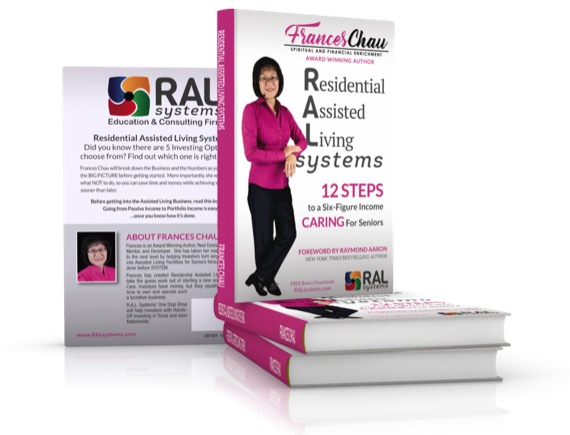 CLICK HERE to get my book on Amazon for $18.00 ($25.00 Value) Free Shipping for PRIME Members

WELCOME TO RESIDENTIAL ASSISTED LIVING SYSTEMS
This SYSTEM is designed for real estate investors and business owners with the desire to get into the assisted living business, CARING for seniors. The word, caring, is emphasized here because RALsystems will not work with those who are only interested in the money aspects of this business. Currently, our mission is to build small ALFs (14-16 Beds) for an underserved aging population, the parents of baby boomers, who are now in their 80s and 90s. Soon, we will be taking care of baby boomers themselves.

TAKING OUT THE GUESS WORK

My "DONE FOR YOU" system will help run the facility so investors will have time for family and other endeavors while owning 5 or 10 of these. The idea is to create more jobs for people with passion in serving seniors (i.e. RNs, CNAs, Med Techs, Dietary Specialists, Maintenance Technicians, Drivers and unskilled caregivers).

RALsystems will be catering to Private Pay residents, who can afford to live in high end neighborhoods, to help investors (with $250K+ invest in 14-16 Bed ALFs in Texas (each state has different requirements) lower their risks and receive high returns on their investment.
My SYSTEM breaks down the BIG PICTURE and provide 5 Investing Options along with their risk levels.
ATTENTION LANDLORD INVESTORS
. . . It's time to step up your game! Bread and butter real estate investing means owning 3- bedroom/2-bath/2-car garage rental properties, with minimal return on investment unless you own these houses free and clear. These small homes make passive income, from $200/month to $300/month, depending on size and location of the property, and if it was leveraged. Imagine the same property making a landlord $1,000 or more in passive income, if the property is double or triple the size. Stepping up your game means investing in 5 to 6-bedroom, single-story homes, in very nice neighborhoods. By following the guidelines laid out by RALsystems, your rental property can now net $1,000 to $1,500 per month, if not more. Instead of having tenants who sign a one-year lease (who may or may not leave your property in good condition), you will receive a 5-year lease from an assisted living facility (ALF) owner, which includes a 4% rent increase (every 5 years), built into your agreement. How cool is that?!
ATTENTION BUSINESS OWNERS . . . If you are reading this book because you know there is much more money to be made in the senior care business, you are right! Are you ready to rake in $10,000 to $20,000 in monthly income, in under 18 months? R.A.L. Systems will show you HOW TO BUILD AN ASSISTED LIVING FACILITY BUSINESS, after renting or purchasing a single-family home, to house 14 to 16 residents, for maximum profits. You can also build one from the ground up, using one of our expert designs created for savvy investors who want to hit the ground running. This FRANCHISE model is called ADORATION HOMES.
Take this FREE Online Course and join RALsystems today!!!
---
STOP DREAMING AND START TAKING ACTION
For those who do not have $100K to $300K to invest in an ALF for seniors, learn how to acquire properties using none of your own money or credit by taking advantage of my Creative Real Estate Investing Courses and begin building that retirement nest egg so you can one day own an ALF.
https://franceschau.teachable.com/p/creative-real-...

You can do anything you set your mind to....
If you think you can, or if you think you can't....either way, you are right.
Your Instructor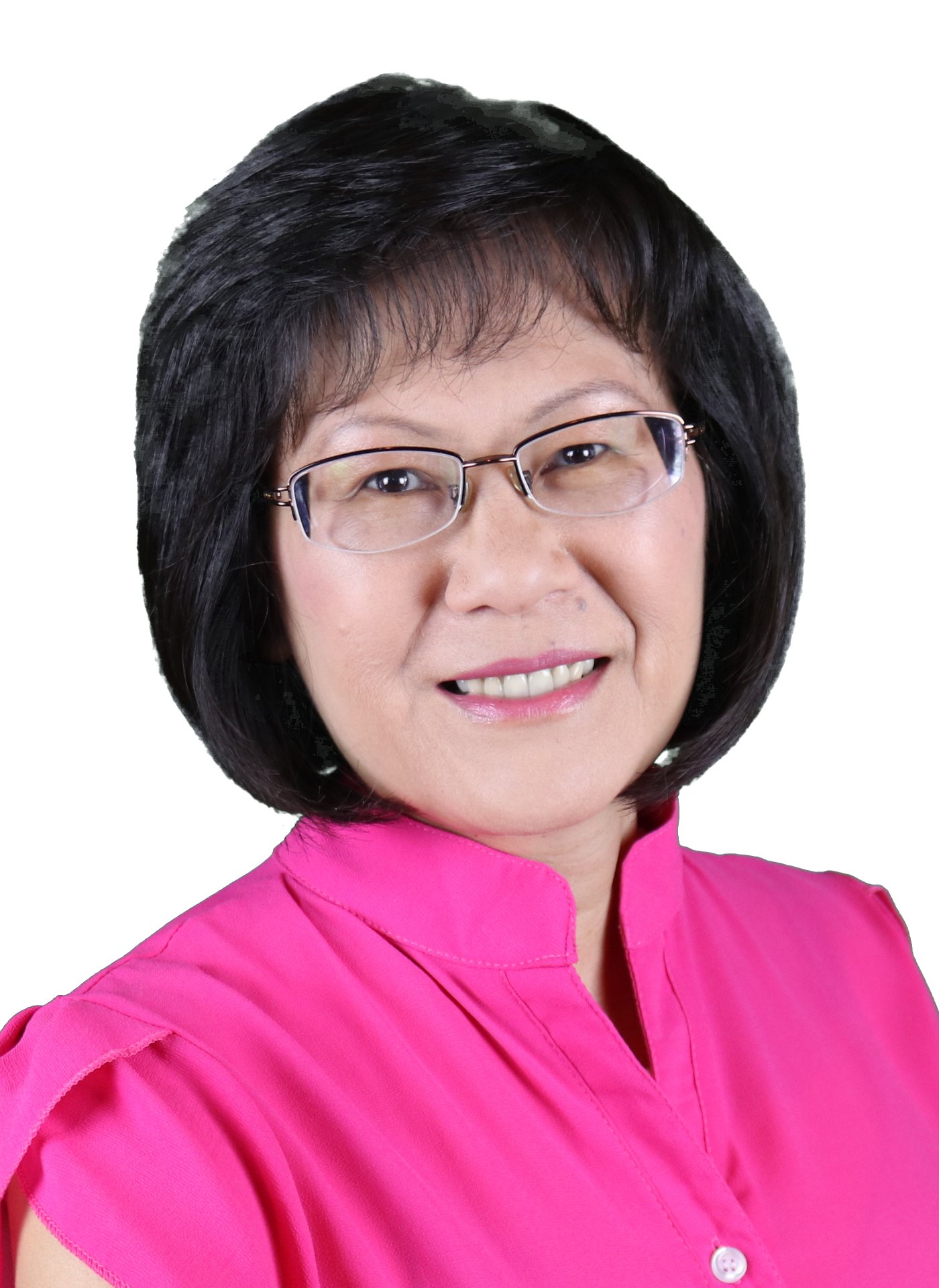 Frances Chau has been in sales, marketing and customer service most of her life. She began selling watches with her father at the flea market when she was 12, helped him run a Billiards & Ice Cream Shop, worked at 3 department stores and started TEACHING sales when she was 18 years old.
Frances enjoyed being top Sales Consultant, selling laptop & desk stop computers when she was 22 to 24 years old. After suffering a lower-back injury in 1997, she had to file bankruptcy.
Frances had no money or credit when she found creative real estate investing in 2000. She purchased 7 properties in 6 short months using none of her own money or credit. It was life changing.
In 2009, her mother had a stroke and she took care of her for 5 years.
In 2014, Frances began teaching creative real estate investing to new and savvy investors since then.
In 2018, Frances decided to take her creative real estate investing online so she can help more people achieve financial freedom and take her real estate investing to the next level by helping real estate investors convert single family homes into assisted living facilities (ALF's) for seniors.
Guru's, who do not reside in Texas, were charging $20,000 to $50,000 to teach investors this business when most of the information can be found online, for FREE. Frances can't see herself taking advantage of investors like that so she took it upon herself to create a system that benefits the investors, the residents of ALF's, and the staff members who care for them.
If she is going to pay $50,000 to anyone, there should be a DONE FOR YOU system.
That's why Frances created Residential Assisted Living Systems.
Investors get to learn her 12 Steps to Success, practically for FREE. But, her joy is in the ONE STOP SHOP, where she takes the 12 Steps to Success and implement them for the investors. Then she manages the facility (catering to Private Pay Residents) for the investors, while they make a six-figure income.
This is a "Hands-off" approach to investing in a recession proof business that allows investors to spend quality time with their family or work on other endeavors.
Frances' system is so powerful, investors can own 5 or 10 of these at the same time and not have to worry about the day-to-day stresses of such a lucrative business.
It's ideal to use one's ROTH Self-Directed IRA's to fund such projects for the highest return on investment.
Presently, R.A.L. Systems invites investors to help serve Baby Boomer parents. Soon, we will be taking great care of the Baby Boomers themselves.

Frequently Asked Questions
Can I turn 3 Bed, 2 Bath homes into assisted living facilities?
Yes, but you won't make more than a few thousand dollars a month unless you are in a fancy neighborhood that can charge $5,000 to $6,000 per bed. The national average is only $3,600 per month. You won't be able to fit more than 9 beds in a 2,500 sqft home, after converting the 2 Car Garage. In essence, you will be buying yourself a JOB...one that keeps you up 24/7 without affording medical benefits for you or your staff. Before you go into converting a home into an ALF, figure out your cost and when you break even. If break even is 7 Beds, then you will make money on the last 2 beds. For every month of vacancy you have, the less money you make. You must ask yourself, "is it worth it to make $2,000 to $4,000 a month? If the answer is yes, no one can stop you.
I own 5 Acres of land, 45 minutes from the city...can you help me build assisted living out here?
There are 4 reasons why it's not a good idea to build an ALF so far outside the city: (1) No geriatric services or emergency care, (2) It's all about location, location, location....just because you build it, it doesn't mean they will come. Children and grand children will visit more often if it's not so far away. (3) The number of elderlies over 85 years old may not be sufficient. Your chances of vacancy are much higher (4) You won't need more than 12,000 to 15,000 sqft of land to build a 16 Bed facility. Anything above that is over-kill and maintenance costs will be high.
I haven't saved up any money but I really want to own an ALF one day. What should I do?
Don't let the lack of money get in the way of your dreams. Take my Creative Real Estate Investing courses and learn how to do "No Money Down" deals. If you can't afford my tuition, work for it. Refer those who can afford my courses and earn commissions to put $200 to $2,000 per referral, in your pocket. You can take one step back and get yourself educated on how to make $5,000 to $20,000 a month or you can keep doing what you've done and keep getting what you've gotten. If you keep telling yourself that you can't...then you won't. And if you tell yourself you can...you'll eventually figure it out. I welcome all optimistic students who will not let obstacles get in the way of their own success. Are you one of them?
How much money do I need in order to own an ALF?
1. If you are the Landlord, you need 20% down plus 10% in contingency plus excellent Credit. 2. If you are the Business Owner, you need $250K to $300K for a 16 Bed Facility. If you have lots of money but you don't have good credit, I can help. If you have only $20K to $50K, you don't have enough capital to build a 16 Bed ALF that produces $10K to $20K in profits each month. Your doors will never open and you will be digging deeper into debt...so don't do it. Save your money and keep yourself from financial stress/heartache.