Creative Real Estate Investing is about acquiring
real estate using the "No Money Down" techniques
MISSION: To provide a vehicle which produces residual income for those who want to build wealth and create a legacy for their children and children's children through Creative Real Estate Investing.
---
AVAILABLE LESSONS BY FRANCES CHAU
Advantage Online Course - 6 Fast Track Modules for Beginners

VIP for Savvy Investors - 6 Techniques for Savvy Investors

VIP Elite Coaching Program

-

Unlimited 1-on-1 Coaching for One Full Year

Postulates Club

- Spiritual & Financial Enrichment
---
Ms. Chau believes in helping her students to achieve wealth and time freedom through a 20 Year Plan. As Spiritual and Financial Enrichment Coach and Mentor, Ms. Chau believes that you can do and achieve anything you put your mind on.
"There is no room for pessimists in my class", says Ms. Chau. "I teach people how to pull money out of thin air so they really need to think outside of the box and be optimistic when faced with obstacles."
Having been a single mom for 10 years since her daughter Kaylee was 2.5 years old, has strengthen Ms. Chau in courage to try new things and if something doesn't work, try something else.
The lessons taught in Creative Real Estate Investing with Frances Chau came from many Life Coaches. Napoleon Hill, Steven Covey, Tony Robbins, Robert Kiyosaki, Carlton Sheets, Russ Whitney, Raymond Aaron, Jack Canfield, Les Brown and her father, Ha T. Chau.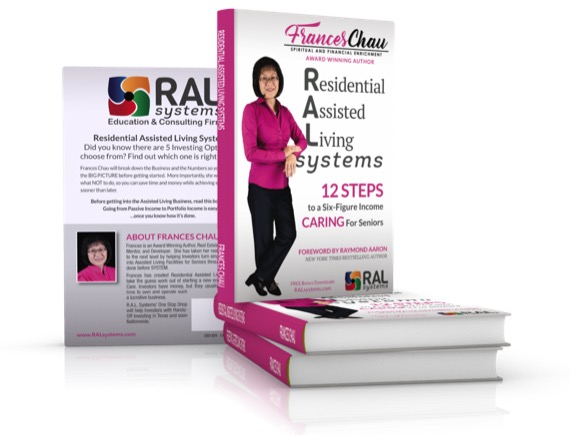 Ms. Chau is also an award winning author of "Residential Assisted Living Systems - 12 Steps to 6 Figure Income, CARING for Seniors".
Her passion for building senior communities came from volunteer work, taking care of her mother for 5 years, and a development project for seniors 55+ with 3,000 Eco-Friendly homes.
Ms. Chau believes that if you don't have money to start a business, then find someone who believes in you. Not only will they be there to support you emotionally, but also financial.
---
Leveraging Money & Real Estate through OPM & OPC
By using other people's money and other people's credit, Ms. Chau was able to purchase 7 properties in the first 6 months. By taking Ms. Chau's online courses, you can, too.
"No Money Down" Techniques are simple to apply, you must first FIND A MOTIVATED SELLER and then evaluate the DEAL.
---
Real Estate Investing Made Easy
Ms. Chau's step by step instructions and illustrations will remove the guesswork. Next, you simply get CREATIVE, by "Mixing & Matching" techniques for resolutions that are beneficial to the Seller, the Buyer and the Tenant Buyer.
"When you leave the negotiating table where everyone is happy, that's a WIN-WIN. If not, that's simply bullying." - Unknown